Follow @LibrarySheet
Satin Doll – Duke Ellington & Billy Strayhorn (Jazz sheet music)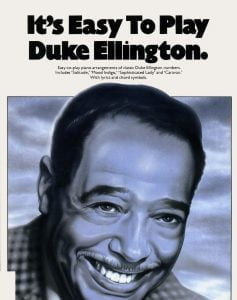 When Billy Strayhorn Met Duke Ellington?
On November 29, 1915, a child was born at Miami Valley Hospital in the city of Dayton, Ohio. The baby had severe rickets and the doctor who delivered the baby told his parents, Lilliam and William Thomas Strayhorn, that he had little chance of survival. They didn't even bother to choose a name for him, and on the birth certificate they only listed him as "boy" Strayhorn.
At five years old, "kid" Strayhorn was very little (he looked two years younger than he was), with a round face and quite cheeky. His parents decided to name him William and regularized his birth certificate. To all this, the Strayhorns had settled in Pittsburgh (Pennsylvania).
William's first contact with a piano was at his maternal grandmother's house in North Caroline, where he spent long periods of time: "My grandmother played the piano, and she taught me several of the songs she sang in church like "When the roll is called up yonder I'll be there" which was my mother's favorite".
Williams's house in Pittsburgh lacked a piano, and he could not continue his musical exercises there, so he looked for a job as a delivery man in a drugstore, and with the money he saved he was able to buy his long-awaited instrument.
At the age of 12, William enrolled in classes at Westinghouse High School, where he studied for five years. During that time he was part of the school's Senior Orchestra as a pianist and began to compose music combining elements of jazz with classical music.
In 1935, William – who from now on I will call him Billy – premiered a musical entitled "Fantastic Rhythm" at Westinghouse High School that featured a chorus of dancers and a band led by him. Among the ten songs that made up the work is the one entitled "My Little Brown Book" that Duke Ellington recorded with his orchestra on June 26, 1942.
Before meeting Duke Ellington, Billy formed a trio in 1937 with clarinetist Jerry Eisner and drummer Calvin Dort under the name "Mad Hatters". His first performance was at Billy's Club. The owner liked what he heard and ended up hiring the group to entertain every weekend for a year.
The music they played were Strayhorn compositions such as "Something to live for", which we will find again a few lines below. Billy also played regularly at the "Rakuen Lake" resort on "piano solo". His reputation grew in Pittsburgh, and several bands in this city hired him as an arranger.
Crawford Grill #1 was once a Pittsburgh institution. It opened its doors around the middle of the first decade of the 20th century by businessman William "Gus" Greenlee. It was a beautiful local of three heights. The boss's office was located on the third floor, and only VIPs could enter it. The first floor was a jazz club where whites and blacks could dance good jazz and where there was never any problem in this regard.
The second floor was a restaurant by the name of the Rumpus Room of Crawford Grill that offered two offerings. The first was called "Chill Night" and the protagonist was Greenlee, but stuck in the kitchen. The second was known as "Jewish Night" and the star was Helen – businessman's wife – also in charge of the kitchen. This plant was the one that Duke Ellington and many of his musicians visited when the orchestra was performing in Pittsburgh.
David Perelman, a young student at the University of Pittsburgh's College of Pharmacy who loved jazz, had heard Billy Strayhorn play on several occasions. His music amazed him and he wanted to lend him a hand in any way to get him out of the anonymity that represented being known only in Pittsburgh. David's best friend was a pharmacy student like him named George Greenlee, who was the nephew of Gus Greenlee.
One day he said to him, "George, I know a guy who is one of the best musicians I've ever heard, and he doesn't seem like he's going to make a big leap. Your uncle knows all the great musicians, could he introduce you to any of them? George agreed.
After midnight on December 1, 1938, George entered his uncle's club and went up to the second floor as he knew Duke Ellington was with him. Once Gus introduced him to his nephew, he turned to Duke and said, " Duke, I have a good friend who has written some songs, and I'd like you to listen to them." George knew that it was almost impossible for the musician to refuse when he was in front of his uncle, so Duke replied, "Well, why don't we meet tomorrow at the Stanley Theater after my first showing? And the appointment was closed.
The next day, George had met Billy at one o'clock in front of the theater. They entered it and went to Duke's dressing room, which was very spacious with a table and several chairs and a piano located on one of the walls. They found him reclining in a chair with his eyes closed. Next to him was his valet. George introduced him to Billy, and Duke, without opening his eyes, said, "Sit down at the piano and let me hear what you've done . "
Before beginning to play Billy commented to him: "Mr. Ellington this is the way you play the song "Sophisticated Lady" . And he played it exactly the same as Ellington did onstage. At the end, he told her: "Now, this is the way I would play it." Billy changed its key, substituted several chords, and played it at a slightly faster tempo.
When he finished, Duke made no comment to Billy, but told his valet: "Tell Harry to come over" (Harry Carney, baritone sax in his orchestra). When he arrived, Duke said to Billy, " can you play the same?" Strayhorn not only played the same thing, but continued with other songs composed by Ellington, such as "Solitude", but interpreting them in his own way. This time it was Carney who left the dressing room and returned with singer Ivie Anderson and sax player Johnny Hodges.
The whole group surrounded Billy and he dared to play his songs like "Something to live for" which he also sang.
Throughout the time that Strayhorn was playing, Ellington remained behind him and at one point placed his hands on the now pianist's shoulders, as if showing him what he was feeling.
This session ended with these words from Duke to Billy: "Okay, I want you in my organization. I have to find a way to integrate you into it. I have to figure out how to do it, once I get back to New York."
In the year 1939, Billy Strayhorn accepted the conditions, whatever they were, to collaborate with Duke Ellington. He told him that he should move to New York and the Harlem neighborhood. He even told her that the easiest way to get to his house was to take the "A" train and get off at the Sugar Hill station.
In the first meeting that Strayhorn and Ellington had at the latter's home, the bandleader asked his new collaborator if he remembered a song of his that he had played when he met him at the Stanley Theater in Pittsburgh. Billy knew that he was referring to the titled "Something to live for" which became the first song that the orchestra recorded composed by him.
The date was March 21, 1939, in New York. The vocalist was Jean Eldridge. If we take a look at the album credits, we will see that Duke Ellington is listed as co-composer. That was the "tithes and first fruits" that Billy had to pay to the Duke. Something that was quite common.
During the year 1939, Billy Strayhorn composed a song based on directions Duke gave him so he could find his home in Harlem. He also wrote her a letter that goes like this:
You must take the A train / to go to Sugar Hill and get to Harlem / If you miss the A train / you will realize that you have lost the fastest way to Harlem / Hurry, get on the train, it is coming / listen to how the rails vibrate / All aboard, let's get on the A train / Soon we'll be arriving at Sugar Hill in Harlem.
Strayhorn wrote "Take the 'A' train" for Ellington, but from the outset he had serious doubts whether the song was really appropriate for his orchestra to perform. He was not at all sure that in "Take the 'A' train" those hallmarks so present in Ellington's works were perceived. It seemed to him a more appropriate song for the Fletcher Henderson orchestra.
For all these reasons, he decided to keep the score in a drawer, but at that time a decision was going to modify the norms that until now governed between composers and North American radio stations.
The ASCAP – The North American Society of Authors and Publishers– made the decision to raise the royalties that radio stations had to pay by nearly 400% if they wanted to broadcast music composed by any of its members. This fact gave rise to a dispute between ASCAP and the radio stations. The first measure that the authors' society took was to prohibit the broadcast of songs by its affiliates on the radio, which was a severe blow to Ellington, since all of his work was registered with ASCAP.
Duke met with his son Mercer and Strayhorn (who were not members of ASCAP) and asked them to show him all the music they had composed. As they both prepared to hand over his works to Ellington, Mercer watched as Strayhorn stood up, read a piece of sheet music, crumpled it up, and tossed it into the wastebasket. Mercer picked up the sheet music, read it, and told Strayhorn, "Don't throw this away. Is very good". And in this way "Take the 'A' Train" came into the hands of Duke.
The song had an excellent reception by the listeners of the different radio stations in which the Duke's orchestra performed it.
On February 5, the Ellington band recorded it in Hollywood. These were the musicians: Rex Stewart (c); Wallace Jones(t); Ray Nance(t); Lawrence Brown (tb); Tricky Sam Nanton (tb); Juan Tizol (vtb); Barney Bigard (cl); Johnny Hodges (as); Otto Hardwick (as); Ben Webster(ts); Harry Carney (bs); Duke Ellington(s); Fred Guy (g); Jimmie Blanton(b); Sonny Greer (d).
"Take the 'A' Train" became the orchestra's "presentation song" (signature theme) for more than fifteen years, replacing "Sepia Panorama".
Quincy Jones had these words about the Strayhorn song : "Take the 'A' Train" was the Holy Grail. It identifies a population, identifies a lifestyle: that of the "Harlem Renaissance". Is incredible. He is all encompassing and says it all in 32 bars."
In this article I have only talked about a couple of songs composed by Billy Strayhorn. I will remedy this in another article in which I will write exclusively about the songs, which in my opinion and with due prudence, I consider the most emblematic of his extensive and brilliant discography.

Here and now I want to record that Billy Strayhorn was one of the best American composers of all time, but he has passed through the history of music like a ghost in the shadow of Duke Ellington, but through no fault of his own: "Every time If I had a harmonic or melodic problem my eyes went to Billy Strayhorn. We talked to each other and everything came into focus. He was not, as has often been claimed, my alter ego. Billy Strayhorn was my right hand, my left hand, my brain waves in his head and his in mine."

Billy Strayhorn died in May 1967 and for thirty years he remained practically invisible to historians, musicologists, the specialized press, disk jockeys… In 1996, a professor at Columbia University Graduate School of Journalism wrote a biography dedicated to Billy Strayhorn entitled "Lush Life" and it seems that perhaps this work (which has been one of my sources for writing this article) will encourage the world of jazz to take a serious interest in one of its most creative and adventurous musicians.
On August 28 and November 15, 1967, Duke Ellington and His Orchestra paid a heartfelt tribute to the memory of Billy Strayhorn. They titled it "… And His Mother Called Him Bill" (… And his Mother Called Him Bill." All the tracks on the album were Strayhorn compositions, including some that had not been recorded up to that time.
Los músicos fueron: Duke Ellington (p); Mercer Ellington (t); Cat Anderson (t); Herbie Jones (t); Cootie Williams (t); Clark Terry (flug); Lawrence Brown (tb); Buster Cooper (tb); Chuck Connors (btb); John Sanders (vtb); Johnny Hodges (as); Russell Procope (as); Jimmy Hamilton (ts); Paul Gonsalves (ts); Harry Carney (bs); Aaron Bell (b); Jeff Castleman (b); Steve Little (d).
DUKE ELLINGTON "Daydream" BILLY STRAYHORN (1968)
Search Posts by Categories:
and subscribe to our social channels for news and music updates: