Follow @LibrarySheet

Bill Evans – Song For Helen (Official Audio)
Bill Evans – Nobody Else But Me (Official Audio)
Bill Evans – Maxine (Official Audio)
Bill Evans – For Nenette (Official Audio)
Bill Evans – I Love My Wife (Official Audio)
Bill Evans – Remembering The Rain (Official Audio)
Bill Evans – After You (Official Audio)
Bill Evans – Reflections In D (Official Audio)

Bill Evans, piano poet
Many jazz pianists including the names of Jelly Roll Morton, Duke Ellington, "Fats" Waller, Art Tatum, Earl Hines, Oscar Peterson, Thelonious Monk, Erroll Garner, Irving Berlin , William "The Lion" Smith, Dave Brubeck, Cecil Taylor, Bud Powell, Herbie Hancock, Bill Evans, Dave Grusin, Don Grolnick, McCoy Tyner, Keith Jarrett, Joe Zawinul, Chick Corea, Bill Clayton, Gonzalo Rubalcaba, Bebo Valdés, Chucho Valdés, Diane Krall or Norah Jones, who made significant contributions in each of the modalities that they had to assume in the historical development of jazz, since the days of gospel.
It is not possible to say who of the jazz pianists in the 20th century was the most influential, since in each and every one of the modalities there have been masters and virtuosos. On this occasion, I will refer to one of them, who made a special lyrical contribution within a new romantic spirit of the piano in the 20th century: Bill Evans.
I choose him because I see him located within a sensibility close to a poetry of a sentimental nature, with a slowness that we could call exquisite, which, in my opinion, constitutes a personal piano mark in the last century, where he was accompanied by some of the most notable jazz musicians, in a very remarkable spirit of interior recollection and experimentation.
The intense life of Bill Evans
Bill Evans was born in New Jersey in 1929. From the age of six, he was already studying violin and piano at a classical academy. After becoming acquainted with well-known pianists from the European tradition, he became interested in jazz and began playing in some New York venues and clubs in the early 1950s.
Bill Evans soon met Cannonball Adderley, George Russell and Miles Davis, with whom he became friends to achieve new contributions to the genre, although he was already influenced by previous master pianists such as Bud Powell and Horace Silver, whom he assimilated to later fully enter the inaugurated bebop by Charlie Parker and Miles Davis.
In 1956, he made his first relevant recording, New Jazz Conceptions , where he defined his proposal within dense poetic spheres, and a very personal harmonic concept, based above all on a series of subtle melodic flows, on refined harmonic advances that soon had a very significant echo. in those years, and continued to expand among the new pianists of the new generation.
Bill Evans prefers chamber music, trios, solos, seclusion and lyrical atmospheres, which is why for me, he becomes a poet of the instrument, following the historical line of the great classical romantics such as Liszt and Chopin, Schumann or Beethoven. His main expressive vehicle was the trio and solo recordings and performances.
In 1963, he recorded the album that would bring him full recognition, Conversation with myself , where he uses the technique of recording on double tracks and at the same time making solo recordings on several tracks.
Do not think for that reason that Bill Evans is an individualist. He began by building a trio with Scott LaFaro (double bass) and Paul Motian (drums) that soon established itself in the jazz world with great prestige. Shortly after, the double bassist LaFaro died in a car accident in 1961, for which the trio dissolved. However, other performances with trios were organized at the Village Vanguard in New York, which were among the most notable in the history of jazz.
Bill Evans continued with other musicians such as Eddie Gómez and Gary Peacock, to establish a unique style in jazz of those years that was followed by other musicians, as well as accompanying vocalists such as Tony Bennett; he seeks new ways to achieve intimacy in his music, by inviting guitarist Jim Hall to record his, or experimenting with symphony orchestras.
In addition, he was always trying to introduce a series of seemingly imperceptible melodic modifications into classic jazz pieces, which in the long run earned him a great reputation. He relied on a few musicians: one of them, a jazz giant, Miles Davis, with whom he recorded one of the albums considered jazz tops. Upon meeting Davis, he radically changed the way he played in intimate settings.
He composed a song entitled "Blue in Green" with it; him later participating in one of the records that would become benchmarks for jazz of all time, Kind of Blue , where the personnel consists of Cannonball Adderley on alto sax, John Coltrane on tenor sax, Wynton Kelly and Bill Evans on piano; Paul Chambers on bass and Jimmy Cobb on drums.
From the age of six to twelve, Bill Evans played an immense number of classical music themes, in a repertoire that includes everything from works by Bach and Beethoven to Béla Bartók.
There are just five pieces that last longer than normal: "So What", "Freddy Farrell", "Blue in Green", "All Blues" and "Flamenco Sketches". The atmosphere achieved on this album constituted another of the great records of cool , which allowed all these musicians to generate various possibilities to explore in jazz musing.
I once said that Miles Davis is perhaps the most introverted sound in jazz, and now I say that Bill Evans is the most introverted piano sound in jazz. His individual brand is lyrical, and I would like now to have enough elements of musicology to argue where his innovations lie.
He experimented with the electric piano (Fender), although his greatest achievements lie on the acoustic piano. It could be said that Evans, like Federico Chopin, makes the piano sing, if we take into account that the human voice is the highest musical instrument: what the instruments do is prolong or express that voice, transfer it to a sound device to capture human sentiment.
In the case of Bill Evans, his modulations are so extraordinary that they could well be close to a new musical romanticism, the one that we find so close to North American and Latin-American sensibility.
Some marks of his style
Bill Evans studied at the Marine School of Music in New York and at South Easterns Louisiana College. From a very young age he began his practices with the piano; from the age of six to twelve he played an immense number of classical music themes, in a repertoire that includes everything from works by Bach and Beethoven to Béla Bartók, so that he was soon freed from what could be called "technical problems".
The main issue to resolve in any case was "to think about how to produce what I think", according to his own words. He got a degree in piano when he was in the army at twenty, and then he went to New York at about twenty-five; at that time he returned to practice with the classics until he met the aforementioned musicians Scott LaFaro and Paul Motian, with whom he recorded New Jazz Conceptions in 1956.
That same year he would record his second album, Tenderly, An Informal Session , where the participation of Don Eliott on vibraphone; In the year 1958 the album appeared that as soon as I heard it I turned it into one of my personal piano icons: Everybody Digs Bill Evans , who revealed to me not only his skill on the instrument, but also his peculiar stamp on interpretation.
It initially consists of ten pieces, where Evans undertakes four of them solo and the remaining six are accompanied by Sam Jones on bass and Philly Joe Jones on drums. "Lucky to Be Me", a classic American piece (by Camden-Green-Bernstein), is treated, like "Epilogue" and "Peace Piece" —both by Evans himself—, with all the subjective power of the pianist and language that will define him from now on as a piano poet.
Here the musician doubles as a creator, throws himself into his art with a superb sense of harmonic invention and a remarkable ability to work with long melodic structures: in "Peace Piece", in effect, it is about these types of structures. He's not very interested in the percussive aspects of the piano—as Earl Hines and Thelonious Monk might be, for example—but in developing long melodic lines through clear, clean technique.
It is interesting how on this album he takes up the song "Epilogue" in another version that evidently closes this part; while in "Minority" and "Night and Day" (Cole Porter's famous standard ), Evans exhibits all his power of suggestion; the same when he turns to "Tenderly", another of the canonical themes of American music.
From Walter Gross, "What Is There To Say?" is another piece that lends itself to a lyrical approach, where Evans moves at ease, avoiding all the difficulties of an apparently simple style due to its intrinsic quality, but tremendously difficult in phrasing. It is precisely in these long pauses that he needs to be accompanied by the rhythms of percussion and bass, in this case assumed by musicians Sam Jones on bass and Philly Joe Jones on percussion.
A month later, the following year, in January 1959, other trio sessions were held where Sam Jones's bass was covered by Paul Chambers, with equally excellent results. The new recording includes only six pieces, eloquent enough to capture all of Evans' magnetism displayed above all in long pieces like "You and the Night and the Music" (more than seven minutes), where all of his lyricism takes flight; the other Rodgers and Hart's standard is "My Heart Stood Still", to then culminate in the longest of all, over eight minutes long, "On Green Dolphin Street", which, with the two takes of "Woody and You", they end up rounding off a balanced, almost perfect album.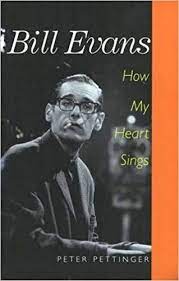 Of course, the purpose of this chronicle is not to discuss Bill Evans' albums one by one. I did it with this one because I owe him the knowledge and enjoyment of this musician, whose existence passed between constant musical work and the permanent stalking of drugs. Apparently, drug use dominated a good part of his life.
Since he was young he tried several times to get rid of them, but family, affective and cultural circumstances constantly haunted him and subjected him to a dependency that also served to connect him more with the abstract world of sounds, safely transporting him to other territories where feeling musical reached radical degrees, sublime perhaps, where he took refuge to achieve such peculiar chords. Indeed, cocaine, heroin and alcohol led him to paradises that later made him pay his dues of hell and nightmares. Added to this were the deaths by suicide of his brother Harry and his wife, which made him hypersensitive.
Metamorphosis of genius
It is impressive to see how Bill Evans went from being a dapper young man in a formal suit, clean-shaven and with an impeccable haircut, to someone twenty years later: long hair, a beard, a lean face, and a series of physical ailments such as insomnia, anxiety, lack of appetite. , physical weakness and nervous exhaustion, which were undermining his health to the point of leading him to states of severe nervous depression.
Bill Evans had apparently picked up a drug habit ever since he was in the army, and like so many other jazz musicians, he was still undermined by drugs (it was also an acquired habit, a kind of lifestyle imposed by the environment itself). ) and served him at the same time to stay active during tours, parties and celebrations and innumerable recordings, which constituted an impressive legacy where he collected the resonances and influences of classical music from the baroque, romanticism, impressionism and avant-garde, until you get to jazz.
From that impressive career of dozens of albums, he always maintained his peculiar style that, for lack of another more rigorous epithet, we will call lyrical, arising from an emotionality close to the poetic state, an intimacy not only with romantic edges, but also from Debussy's impressionism and other musicians of this movement, always staying within reflective atmospheres where the artist demands, through the instrument, to express his deep voice, a voice shared with his peers, always adhering to what was initially called chamber music, music to be heard in private venues, for which reason it remained in the scheme of the trio, the quartet and eventual accompaniments to singers or related musicians.
To the aforementioned albums from the fifties, the albums Portrait in Jazz (1959) were added at the end of that decade, where the collaborations with Philly Joe Jones on drums, Scott LaFaro on bass and Paul Motian on percussion, are maintained. to open the sixties with these last two musicians in Explorations (1961) and Sunday at the Village Vanguard (1961), a year that was very productive and in which he recorded Nirvana together with Herbie Mann on flute and bass; while the following year he recorded How My Heart Sings (1962); he accompanied Freddie Hubbard on trumpet on Interplay (1962) and Jim Hall on guitar on Undercurrent (1962), which was followed by Empathy and others.
Search Posts by Categories:
and subscribe to our social channels for news and music updates:
In 1965 he made an exception and recorded an album with a symphony orchestra conducted by Claus Ogerman. In 1966 he records A Simple Matter of Conviction. In 1967 he further Conversations with Myself in solos where he realizes his self-absorption. The same year California Here I Come, with Eddie Gómez and Philly Joe Jones; in 1968 he wins a Grammy Award with Alone Anothertime is another album from that year, featuring Eddie Gomez and Marty Morell.
From 1960 stand out Jazzhouse, What's New and You're Gonna Hear from Me. He goes to England and records Evans in England . From 1970 stand out From Left to Right , Montreux , The Bill Evans Album (trio).
In 1972, Live in Paris , Eloquence , Momentum or The Tokio Concert stand out . In 1973 and 1974 he continued in the line of the trio with his inseparable Gómez and Morell in Half Moon Bay , Since We Met , Symbiosis , But Beautiful , Blue in Green and Intuition.
In 1975, he made the famous recording with the great singer Tony Bennett and then Alone Again.
In 1976, we have him making a quintet with Kenny Burrell on guitar and Ray Brown on bass, Jones and Gómez, and On A Monday Evening . In 1977, he worked in a quintet with Lee Konitz, Warne Marsh and Eddie Gómez and won another Grammy Award again with I Will Say Goodbye , and You Must Believe In Spring , one of the albums we listened to most in the seventies together with Getting Sentimental and New Conversations in 1978.
In 1979, he has an astonishing production of albums and presentations that include recordings with quintets like Affinity, and We Will Meet Again , and others with trios like Homecoming . That same year he traveled to Paris, where he made a memorable recording with the title The Paris Concert Edition , until he finally gave us Turn Out the Stars , The Last Waltz , Consecration , The Last Concert in Germany and The Very Last Performance at Fat Tuesday , in direct allusion to Greasy Friday at the New Orleans carnival. From 1980 is Autumn Leaves .
An impressive investigation into the spirit of jazz in the 20th century lives in all of these, to connect its messages with that spiritual animism that starts from blues and gospel, goes through a stage of modern experimentation of bop and cool to land in a new type of intimate chamber music that speaks above all to the senses, to the presentiments and sweet or bitter thoughts of love and its ups and downs, to its mood flows, melancholy and sadness, introspective meditations and ups and downs of the mood that led him to occupy a place exceptional in the history of jazz.