Follow @LibrarySheet
Hans Zimmer – Time (Inception) (avec partition)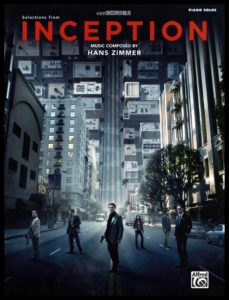 Time (Inception): Music from the Motion Picture
Inception : Musique du film
est la bande originale du film 2010 du même nom réalisé par Christopher Nolan , sorti sous Reprise Records le 13 juillet 2010. Hans Zimmer a marqué le film, marquant sa troisième collaboration avec Nolan après Batman Begins et The Dark Knight .
Search Posts by Categories:
and subscribe to our social channels for news and music updates:
Production
Selon Zimmer, la bande originale d' Inception est « une partition très électronique ». Nolan a demandé à Zimmer de composer et de terminer la partition pendant qu'il tournait le film. Le compositeur a déclaré : « Il voulait libérer mon imagination de la meilleure façon possible ». À un moment donné, lors de la composition de la partition, Zimmer a incorporé un son de guitare rappelant Ennio Morricone et souhaitait que Johnny Marr , ancien guitariste du groupe de rock influent des années 80 The Smiths , joue ces parties.
L'inspiration rapportée de Zimmer était de trouver une piste de synthétiseur qu'il avait écrite similaire au style de guitare de Marr. Nolan a accepté la suggestion de Zimmer, puis Zimmer a approché Marr, qui a accepté son offre. Marr a passé quatre jours de 12 heures à travailler sur la partition, jouant des notes écrites par Zimmer avec une guitare à 12 cordes.
Pour s'inspirer, Zimmer a lu Gödel, Escher, Bach: An Eternal Golden Braid de Douglas Hofstadter parce qu'il combinait «l'idée d'espièglerie en mathématiques et d'espièglerie en musique». Zimmer n'a pas assemblé un score temporaire mais "de temps en temps, ils appelaient et disaient" nous avons besoin d'un petit quelque chose ici ". Mais c'était OK parce que la plupart des morceaux de musique ne sont pas spécifiques à cette scène.
Ils se répartissent en petites catégories ». En écrivant le scénario, Nolan a écrit dans » d' Édith Piaf « Non, je ne regrette rien mais a failli l'enlever lorsqu'il a choisi Marion Cotillard , qui venait de terminer un tour oscarisé en tant que Piaf dans le film de 2007 La Vie en rose . . Zimmer a convaincu Nolan de le garder dans le film et a également intégré des éléments de la chanson dans sa partition; en particulier, la fanfare emblématique des cuivres du film ressemble à une version ralentie de l'instrumentation de la chanson.
Les bandes-annonces du film présentent une musique spécialement composée par Zack Hemsey , qui n'apparaît pas sur la bande originale officielle. La bande originale a été nominée pour plusieurs prix, dont un Academy Award , un Golden Globe , un Grammy et un BAFTA .
James Southall de Movie Wave a attribué cinq étoiles à la partition, la qualifiant de "meilleur travail de Zimmer depuis plusieurs années", et Jim Lochner de Film Score Click Track, qui a déclaré "Inception est une balade musicale passionnante et trippante", récompensant le score quatre étoiles et demie sur cinq.
Liste des pistes
Toute la musique est composée par Hans Zimmer .
No.
Title
Length
1.
"Half Remembered Dream"
1:12
2.
"We Built Our Own World"
1:55
3.
"Dream Is Collapsing"
2:28
4.
"Radical Notion"
3:43
5.
"Old Souls"
7:44
6.
"528491"
2:23
7.
"Mombasa"
4:54
8.
"One Simple Idea"
2:28
9.
"Dream Within a Dream"
5:04
10.
"Waiting for a Train"
9:30
11.
"Paradox"
3:25
12.
"Time"
4:35
Total length:
49:13
No.
Title
Length
13.
"Projections"
7:04
14.
"Don't Think About Elephants"
5:35
Total length:
12:39
Biographie de Hans Zimmer
Nom de naissance : Hans Florian Zimmer
Hans Florian Zimmer est un compositeur de films allemand et producteur exécutif de partitions. Il a composé la musique de plus de 100 films, dont Rain Man (1988), The Lion King (1994), Crimson Tide (1995), The Prince of Egypt (1998), Gladiator (2000), The Last Samurai (2003), The Da Vinci Code (2006), Frost/Nixon (2008), The Dark Knight (2008), Sherlock Holmes (2009) et Inception (2010).
Zimmer a passé le début de sa carrière au Royaume-Uni avant de déménager aux États-Unis. Il est à la tête de la division musique de film des studios DreamWorks et travaille avec d'autres compositeurs à travers la société qu'il a fondée, Remote Control Productions.
Ses œuvres se distinguent par l'intégration de sons de musique électronique avec des arrangements orchestraux traditionnels. Il a remporté deux Grammy Awards, deux Golden Globes, un Classical BRIT Award et un Academy Award. Zimmer a également été classé numéro 72 sur la liste des 100 meilleurs génies vivants.