Follow @LibrarySheet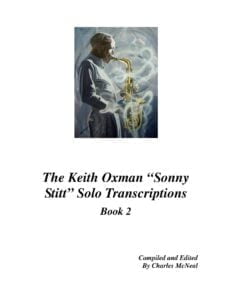 Sonny Stitt Quartet – I'll Be Seeing You
Sonny Stitt Quartet – Sweet Georgia Brown
Sonny Stitt Quartet, 1982 – Angel Eyes
Sonny Stitt Quartet – At Last
Sonny Stitt Quartet 1959 – Laura
Sonny Stitt 1969 – Tune-Up
Sonny Stitt Quintet – Sugar
Sonny Stitt Quintet – Bouncin' With Bud
Sonny Stitt Quartet – O Sole Mio
Sonny Stitt Quartet – Silly Billy
Sonny Stitt with Ralph Burns Strings – Talk to Me
Sonny Stitt – When It's Sleepy Time Down South
Sonny Stitt – Night Letter
Sonny Stitt Quartet – Tenderly
Sonny Stitt Quartet – Loose Walk

Sonny Stitt
He recorded almost 150 albums as a leader, in duets or integrating posh combos. Serene and elegant, the magnetism of his presence scene lives on in some images from the golden age of jazz photography. He mastered his instrument so much that it is difficult to stop listening to him, not to repeat his superb ballads over and over again or interrupt the chain of his best records.
He even carried an unequivocally musical and easy-to-remember name around the world. Of Sonny Stitt it is possible to say all that, but straight away it is It is almost necessary to mention that for different reasons, most of them unfair, it is given a secondary relevance in the history of modern jazz.
It may be that bad luck followed him ever since his father gave him up for adoption, probably so that he could continue his studies in classical music in Boston. At that point he changed from Edward Boatner Jr. to Sonny Stitt, and was known as such throughout his fertile career. Of course, that diminutive does not have anything bad, but it is a bit inconvenient depending on which crossroads.
There are quite a few Sonnys (from famous bluesmen blind to jazzmen like Greer, Clark, Crisis or Rollins, still overwhelming at 82) who have excelled in African-American music. The problem arises if they call you Sonny while calling you a surrogate for a quick genius or/and successor of that same genius when he already breeds mallows. Exactly what happened to our guy with Charlie Parker.
There is controversy among jazz nerds as to whether Stitt copied Bird in his early days , or whether there was already a style match before your first meeting. The truth is that Parker, already a celebrity at the time, not only was quick to tell him "you sound like me", but a decade later, finding out in the last ones, he anointed him as his successor with the phrase "man, here are the keys to the kingdom" (or so wrote Philip Larkin, controversial British poet and jazz critic capable of branding Thelonius Monk from "elephant to the keyboard").
Meanwhile, Sonny Stitt had come off heroin in Lexington jail, had recorded several duet albums with fellow saxophonist Gene Ammons and had already spent years combining the alto sax with the tenor, and sometimes even with the baritone. He was not resigned to being considered a carbon copy of Bird , as he came to define him. a journalist of the time.
In reality, many black and white instrumentalists in debt to Charlie Parker went on to complete successful careers. artists (Lee Konitz, Jackie McLean, Cannobal Adderley, Phil Woods…), but none were treated with as much disdain as he was.
That did not stop Sonny Stitt from continuing on his way to consolidating a own artistic profile, identifiable live both during the European tour of the Miles Davis quintet in 1960 and in his repeated performances at Ronnie Scott's in London, or listening to any of the albums he recorded under his name or under the banners Giants of Jazz and The Bop Session , for which he shared a studio with Thelonius Monk, Dizzy Gillispie and Art Blakey, among other figures. In his extensive discography, variety prevails to the point of having been one of the few saxophonists (Eddie Harris and Lou Donaldson did as well) who used the varitone, electronic amplifier of the saxophone especially suitable for jazz-soul, a style that was in vogue during the 1960s.
Married to a showgirl in 1952 and divorced in 1959, Sonny Stitt ended up being nicknamed Lone Wolf (Lone Wolf), despite his affable character and the seriousness with which he took his work. A month before dying in 1982, sick with liver cancer, he had recorded his last album in Japan, a country where he achieved a resounding recognition. came out in 1956.
He was 58 years old and bequeathed more than 90 hours of jazz released on a dozen record labels, an amount that he could hardly imagine when 38 Minutes and 48 seconds with Sonny Stitt. Critics highlight, among his albums as leader, Stitt plays Bird , Tune Up , Sonny Side Up … They are great, without a doubt, but none Separately, he has just done justice to the powerful and versatile saxophonist that Sonny Stitt was, also a composer of an appreciable number of songs.
Perhaps only his companions came to gauge the true scope of his art, capable of shining both in ballads and in fast times. The indomitable Art Pepper recognized it, and doubly so, when considering one of his most glorious moments when he thought he would dominate Sonny Stitt playing Cherokee in San Francisco and choosing that victory to close his memoir, sarcastically titled An Exemplary Life .
The lance tells it so raptly the saxophonist Californian: "We played the beginning, the melody, and Sonny embarked on the first solo. And he played at least forty choruses. He was playing maybe an hour straight, he did everything you could do with a saxophone. And suddenly he stopped. And he looked at me as if to say: `For you to learn, asshole. Now he's your turn.' (…) I played like never in life. I searched my mind and found my personal form, and what I expressed reached the public. I played and played, and when I finally finished, I was shaking all over, my heart was racing. He was drenched in sweat, and people were clapping and cheering. I looked at Sonny; I contented myself with giving him a little nod. `Very good!' he said. That was what happened. And so It's what matters in life." Obviously, we only have Art Pepper's version of the story, but it hardly matters. Sonny Stitt knew how to lose, that's for sure.