Follow @LibrarySheet
Rhapsody In Blue – King of Jazz (1930) – Paul Whiteman – George Gershwin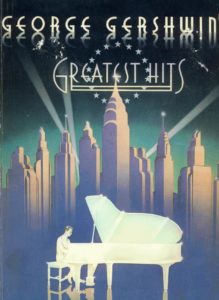 Here's an abridged version of the George Gershwin masterpiece composed for Paul Whiteman in 1924, from this 1930 2-strip Technicolor revue film. The segment opens with a completely unrelated "Voodoo Dance", followed by the opening clarinet solo danced by Jacques Cartier, and then Roy Bargy playing the piano solo. Danced by Russell Markert Girls and Sisters G.
"King of Jazz" was the first motion picture to use a pre-recorded soundtrack made independently of the actual filming. Whiteman insisted that the entire soundtrack be pre-recorded in order to obtain the best sound, avoiding the poor recording conditions and extraneous noises found in a movie studio.
Universal opposed the idea, but Whiteman insisted and prevailed over the reluctant studio executives. After the sound was recorded, the scene was filmed. Later, the film was synchronized to the soundtrack. This allowed the movie to be directed in the same manner as a silent film, with resulting sounds not affecting the completed film.
King of Jazz was the 19th talking picture filmed entirely in two-color Technicolor rather than simply including color sequences. At the time, the process employed red and green dyes, each with a dash of other colors mixed in, but no blue dye. King of Jazz was to showcase a spectacular presentation of "Rhapsody in Blue," so this presented a problem. Fortunately, the green dye Technicolor used can actually appear peacock blue (cyan) under some conditions, but acceptable results in this case would require very careful handling. Art director Herman Rosse and production director John Murray Anderson came up with ingenious solutions. Tests were made of various fabrics and pigments, and by using an all gray-and-silver background the bluish aspect of the dye was set off to best advantage. Filters were also used to inject pale blues into the scene being filmed.
The goal was to produce a finished film with pastel shades rather than bright colors. Nevertheless, as it appears in an original two-color Technicolor print, the sequence might best be described as a "Rhapsody in Turquoise". Later prints made from the original two-component negative, which had survived, make the blues look truer and more saturated than they appeared to audiences in 1930.