Follow @LibrarySheet
Bruce Springsteen: the 100 most inspiring musicians of all time
American singer, songwriter, and bandleader Bruce Springsteen (b. Sept. 23, 1949, Freehold, N.J., U.S.) became the archetypal rock performer of the 1970s and '80s.
Bruce Springsteen grew up in Freehold, a mill town where his father worked as a laborer. His rebellious and artistic side led him to the nearby Jersey shore, where his imagination was sparked by the rock band scene and the boardwalk life, high and low. After an apprenticeship in bar bands on the mid-Atlantic coast, Springsteen turned himself into a solo singer-songwriter in 1972 and auditioned for talent scout John Hammond, Sr., who immediately signed him to Columbia Records.
His first two albums, released in 1973, reflect folk rock, soul, and rhythm-and-blues influences, especially those of Van Morrison, Bob Dylan, and Stax/ Volt Records. Springsteen's voice, a rough baritone that he used to shout on up-tempo numbers and to more sensual effect on slower songs, was shown to good effect here, but his sometimes spectacular guitar playing, which ranged from dense power chord effects to straight 1950s rock and roll, had to be downplayed to fit the singersongwriter format.
With his third album, Born to Run (1975), Springsteen
transformed into a full-fledged rock and roller, heavily
indebted to Phil Spector and Roy Orbison. The album, a
diurnal song cycle, was a sensation even before it hit the
shelves; indeed, the week of the album's release, Columbia's
public relations campaign landed Springsteen on the
covers of both Time and Newsweek. Three years passed
before the follow-up, the darker, tougher Darkness on the
Edge of Town (1978), appeared. With "Hungry Heart," from
The River (1980), Springsteen finally scored an international
hit single.
By then, however, he was best known for his stage shows, three- and four-hour extravaganzas with his E Street Band that blended rock, folk, and soul with dramatic intensity and exuberant humor. The band, a crew of
mixed stereotypes —from rock-and-roll bandit to cool music professional— was more like a gang than a musical unit, apparently held together by little other than faith in its leader.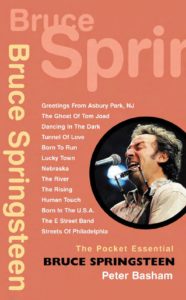 Bruce Springsteen's refusal, after Born to Run, to cooperate with much of the record company's public relations and marketing machinery, coupled with his painstaking recording process and the draining live shows, helped earn his reputation as a performer of principle as well as of power and popularity. Nebraska (1982), a stark set of acoustic songs, most in some way concerned with death, was an unusual interlude.
It was Born in the U.S.A. (1984) and his subsequent 18-month world tour that cinched Springsteen's reputation as the preeminent writer-performer of his rock-and-roll period.
Springsteen's social perspective has been distinctly working-class throughout his career, a point emphasized both by his 1995 album, The Ghost of Tom Joad, which concerned itself with the economically and spiritually destitute in America and by his 1994 hit single (his first in eight
years), the AIDS-related "Streets of Philadelphia," from the film Philadelphia, for which he won both an Academy Award and a Grammy Award.
The other side of Springsteen's work is reflected in the albums that he produced in the period beginning with Tunnel of Love (1987) and including Human Touch and Lucky Town (released simultaneously in 1992). The songs on these albums are intensely personal reflections on intimate relationships.
In general, they have not been as popular. Bridging all this is the five-record set Bruce Springsteen and the E Street Band Live 1975–1985 (1986), which captures as much of his highly visual stage show of that period as can be rendered in a sole audio form. The breakup of the
E Street Band in 1989 and general trends in pop music fashion curbed Springsteen's popularity.
In 1998, he put together a box set, Tracks, consisting for the most part of leftover material that had failed to make the cut on his albums with the band. This grandiose gesture established him as prolix beyond all but a couple of peers. Sales of Tracks were trivial compared with those for Live.
In 1999 Springsteen reunited the E Street Band. They appeared with him when he alone was inducted into the Rock and Roll Hall of Fame in early 1999, then spent a year touring with him, resulting in a live album (Live in
New York City [2001]) but only a handful of new songs.
On Sept. 21, 2001, Springsteen performed the national debut of his song "My City of Ruins" on a television special. It was written about Asbury Park but took on a different tone in the wake of the September 11 attacks. That tone continued on The Rising, his 2002 album with the E Street Band, which weighed the consequences of the attacks and their aftermath. Beginning on the Rising tour, Springsteen became an adamant critic of the U.S. government, especially regarding the Iraq War.
Springsteen's 2005 solo tour, following the release of the Devils and Dust album, explored the full depth of his song catalog and continued his opposition to the administration's policies.
We Shall Overcome: The Seeger Sessions (2006) took a turn unanticipated by even the closest Springsteen observers. He made the recording over a period of 10 years with a folk-roots band and a horn section.
It featured traditional American folk songs ("Oh, Mary, Don't You Weep," "Froggie Went A-Courtin'," and "John Henry") as well as songs associated with its inspiration, Pete Seeger ("My Oklahoma Home," "How Can I Keep from Singing," and "Bring 'Em Home"). Springsteen's tour of the United States and Europe in 2006 featured a 20-piece band.
Magic (2007), another E Street Band album, sometimes spoke metaphorically and sometimes explicitly in opposition to the war and government intrusions on civil liberties. Springsteen continued his commentary through a worldwide tour with the E Street Band in 2007 and 2008.
After the April 2008 death of the E Street Band organist and accordionist Danny Federici from melanoma, the band's playing acquired a darker urgency of tone. The later stages of the Magic tour featured arguably the most assertive, inspired playing Springsteen and the group had ever done.

Working on a Dream, released in early 2009, concerned itself lyrically with thoughts of love and life, how fleeting both are and what it takes to stay the course. The music on the album was a much more sophisticated version of what Springsteen had done on his first two albums, with a greater emphasis on harmony, especially vocal harmonies characteristic of the later work of the Beach Boys. In the lyrics, Springsteen's knack for particular detail served him well.

On Feb. 1, 2009, Springsteen and the band were the featured entertainment at halftime of Super Bowl XLIII; with an average viewership of 98.7 million, the game was the most-watched televised sports event in American history.
Many fans and much of the press criticized Springsteen for commercializing himself this way. But in the aftermath, it was generally agreed that he had managed to condense the structure, message, humour, and athleticism of his live show into the 12 minutes allotted. On the largest popular culture platform available, Springsteen established that some rock artists remained determined to sustain their vitality and creative ambitions all the way to the end.
Bruce Springsteen – Born In The U.S.A. (Full Album)1984
Track Listing
All tracks are written by Bruce Springsteen.
Side one
1."Born in the U.S.A."
2."Cover Me"
3."Darlington County"
4."Working on the Highway"
5."Downbound Train"
6."I'm on Fire"
Side Two
7."No Surrender"
8."Bobby Jean"
9."I'm Goin' Down"
10."Glory Days"
11."Dancing in the Dark"
12."My Hometown"
Personnel
Bruce Springsteen – lead vocals, lead guitar, acoustic guitar
The E Street Band
Roy Bittan – piano, synthesizer, background vocals
Clarence Clemons – saxophone, percussion, background vocals
Danny Federici – Hammond organ, glockenspiel, piano on "Born in the U.S.A."
Garry Tallent – bass guitar, background vocals
Steven Van Zandt – rhythm guitar, acoustic guitar, mandolin, harmony vocals
Max Weinberg – drums, background vocals
Additional musicians
Richie "La Bamba" Rosenberg – background vocals on "Cover Me" and "No Surrender"
Ruth Davis – background vocals on "My Hometown"
Browse in the Library:
and subscribe to our social channels for news and music updates: