Follow @LibrarySheet
Graduating Berklee students and our honorary doctorate recipient, John McLaughlin, played an adaptation of John Coltrane's arrangements for "My Favorite Things". For more information, please visit: https://valencia.berklee.edu/
The adaptation was written by Richard Rodgers with text by Oscar Hammerstein II, following an intro guitar solo of "Stella by Starlight" at the 2017 Commencement Concert, La Nit de Berklee. The concert was held on July 8 in front of the Hemisfèric in the City of Arts and Sciences. Sixteen acts of graduating students performed on a floating stage in the middle of the enclosure's artificial lake.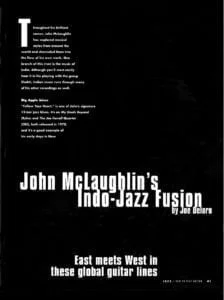 Written by: Richard Rodgers and Oscar Hammerstein II Based on the arrangements by: John Coltrane
Adapted by: John McLaughlin and Casey Driessen Guitar: John McLaughlin Flute and Vocals: Rasika Shekar Piano: Hooni Min Bass: Tabari Lake Drums: Joshua Wheatley
JOHN MCLAUGHLIN
Born on January 4, 1942, in Yorkshire, England

STYLES: Fusion, Jazz-Rock, Post-Bop, World Fusion, Chamber Jazz, Guitar Jazz, Indian Classical, Indian Subcontinent Traditions, Jazz Instrument
MEMBER OF: Mahavishnu Orchestra, Shakti, Duffy's Nucleus, Five Peace Band, Fuse One, Tony Williams Lifetime
One of the most virtuous guitar soloists of the so-called fusion, John McLaughlin, put his great speed at the service of a spiritual passion that has kept his music evolving and open to new influences. Whether electric or acoustic, McLaughlin's intensity and underappreciated versatility have kept his playing vital and his moments, whether as a soloist or a member of a band, represent some of the greatest moments in jazz and the jazz fusion.
McLaughlin was born on January 4, 1942, in Yorkshire, England, and began playing the guitar at age 11. Initially drawn to blues and swing, he worked with British artists such as Georgie Fame, Graham Bond, Brian Auger and Ginger Baker. McLaughlin formed his own band in 1968, and recorded the excellent 'Extrapolation' in early 1969. Later that year he moved to New York to join Tony Williams in the innovative fusion band Lifetime and was invited to join the Miles Davis band for the records 'In a Silent Way', 'Bitches Brew' and 'A Tribute to Jack Johnson'.
In 1970, wanting to explore acoustic music, McLaughlin recorded the classic 'My Goal's Beyond', left Davis and after one more solo album, 'Devotion', McLaughlin spent some time in 'the woodshed'. He re-emerged in 1971 as the leader of the Mahavishnu Orchestra, a seminal band that did much to define and popularize jazz-rock fusion, as evidenced by the albums 'The Inner Mounting Flame', 'Birds of Fire' and 'Visions of the Emerald'. Beyond'.
Pausing to record 'Love Devotion Surrender' with Carlos Santana in 1972, McLaughlin continued with the Mahavishnu until 1975. Returning to spiritual concerns he formed Shakti, which fused acoustic jazz with Indian music. McLaughlin returned to his solo career in the late '70s, forming a back-up outfit called The One Truth Band, recording 'Friday Night in San Francisco' and Passion, Grace & Fire' with fusion partner Al diMeola and flamenco guitarist Paco de Lucia As the 1980s progressed, McLaughlin experimented with classic jazz.
In the 1990s, McLaughlin continued to consistently record electric and acoustic tracks.