Follow @LibrarySheet
Table of Contents
What are the Jazz Play Along (or Backing or Background Tracks) and how to use them?
Background tracks, bases, backing tracks, or Jazz Play Along are a system of audio (CD or mp3) devised by saxophonist Jamey Aebersold in the seventies. They allow you to play over a recording made by a rhythm section made up of well-known jazz musicians.
In the Jamey Aebersold series the backing tracks Play Along are recorded by musicians, but they don't play the melody of the jazz standard, only the harmony and rhythm.
Balance can be used to mute the piano or bass.
The different audios are organized by composer, by groups of jazz standards, or by scales and harmonic progressions.
Jazz Play Along (PDF Book and mp3 audio tracks)
This series (PDF + mp3 audios) include all kind of Jazz genres and artists: Duke Ellington, Rodgers Hart, Irving Berlin, Miles Davis, John Coltrane, Herbie Hancock, Count Basie, Cole Porter, Charlie Parker, Bill Evans, Lennon & McCartney, Stevie Wonder, Sonny Rollins, Charles Mingus, George Gershwin, Paul Desmond, Jimi Hendrix, Frank Sinatra, etc. etc.
The complete list of Play Along sets (PDF book + audio mp3) can be found here.
Here, you can download the Tune Funder document:
The following are example videos of the Jazz and Rock Play Along:
Jazz & Rock Play Along, Jazz & Blues Music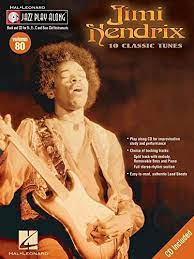 What is a jazz backing track?
The dream of any musician after beginning to master his instrument is to play with talented musicians. Today it is very easy to get in touch with like-minded people. The Internet paved the way for the dream of forming a band to come true. Even so, it is not easy to find musicians who have the same feeling, especially in a genre like Jazz. It is very important that the members complement each other.
A backing or background track (or play along) is an audio track that usually lacks an instrument. In this way you can play or improvise accompanied by the other instruments or the voice. Therefore, musicians use the jazz tracks where their instrument is absent. That's how easy it is to play all the classics in the company of a whole jazz group!
Why is a jazz play along backing track worth it?
Hardly any other genre has such a unique and improvised rhythm as Jazz. Therefore, each group must be perfectly coordinated and in harmony with each other. If you want to embark on the path of Jazz as a musician, you have to take the time to practice your instrument together.
Sometimes it's not easy to open up to other musicians, especially as a beginner. With a backing track you practice informally and at the same time you are part of a jazz group. A backing track is the band that supports you unconditionally to strengthen your talent! So grab your instrument and practice alongside the greats.
Jazz Play Along offers you many sheet music with Jazz backing tracks, be it Smooth Jazz, Fusion, classic or Latin Jazz. You can choose what you like best! Play the part of your instrument and play the best Jazz standards of all time!
The Jazz Play Along helps you to improvise in classic Jazz style. Browse through our catalogs of Jazz Play Along backing tracks and discover all the classics of the genre or the most influential artists.
The Jazz Play Along best jazz backing tracks are for all instruments: piano, guitar, trumpet, etc.
Rock Play Along
The Play Along Series (book and audios) are also available for ROCK and POP music, and for piano and guitar, as well:
Bossa Nova, Bon Jovi, Jobim, David Bowie, U2, Elton John, George Benson and many more….