Find this book and The Beatles sheet music songbooks in our Library.
More than thirty years after The Beatles split up, the music of Lennon, McCartney and Harrison lives on. What exactly were the magical ingredients of those legendary songs? Why are they still so influential for today's bands?This ground-breaking book sets out to explore The Beatles' songwriting techniques in a clear and readable style. It is aimed not only at musicians but anyone who has ever enjoyed the work of one of the most productive and successful songwriting teams of the 20th century.Author Dominic Pedler explains the chord sequences, melodies and harmonies that made up the Beatles' self-penned songs and how they uncannily complemented the lyrical themes. He also assesses the contributions that rhythm, form and arrangement made to the Beatles' unique sound.Throughout the book the printed music of the Beatles' songs appears alongside the text, illustrating the author's explanations.
The Beatles were one of the most successful and influential pop music groups of the 1960s. This quartet of British musicians were rhythm guitarist John Lennon (October 9, 1940–December 8, 1980); bass guitarist Paul McCartney (born June 18, 1942); lead guitarist George Harrison (February 25, 1943–November 29, 2001); and drummer Ringo Starr (originally Richard Starkey; born July 7, 1940).
Lennon formed a band in Liverpool, England, while in high school in the mid-1950s. McCartney and then Harrison joined the group in the late 1950s. In its early years the band also had several other members. In 1962 they signed a recording contract with a large music company. At about this time they chose Starr to replace drummer Pete Best.
At first the Beatles' songs were upbeat and fairly simple. The first song recorded by the Beatles was "Love Me Do" in 1962. Their first hit came the following year, when "Please Please Me" climbed to the top of the British music charts.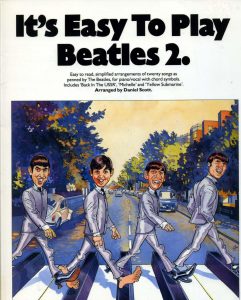 The Beatles became very famous in Britain. People started calling the excitement over the band Beatlemania. The Beatles became wildly popular in the United States too after appearing on Ed Sullivan's television program in February 1964. Teenage girls across the country screamed and fainted over them, and boys copied the Beatles' look. By April 1964 the top five hits in the United States were all Beatles songs.
In the late 1960s the Beatles began creating more adventurous music, combining different musical styles. The album Sergeant Pepper's Lonely Hearts Club Band (1967) showed a new complexity. The band also recorded the albums The Beatles (1968), Abbey Road (1969), and Let It Be (1970).
The pressures of fame led the Beatles to break up in 1970. All four continued their musical careers—Lennon with his wife, Yoko Ono; McCartney with the band Wings and later as a solo performer; and Starr and Harrison mainly as solo artists.